Administration Guides
RPO Reporting and Trending Feature Guide
Home
RPO Reporting and Trending Feature Guide
See Eyeglass PowerScale Edition Recovery Point Objective Trending and Reporting
End User Offline Detection
The Eyeglass web page detects when the browser does not have Internet access and does not attempt to connect to Twitter or the Superna support (superna.help) site. In this case the Twitter icon on the Eyeglass web page is removed and the Help button is inactive.
Eyeglass Reporting
Eyeglass offers these reports:
Cluster reports that cover configuration>
RPO reports that include SyncIQ performance, and backup details on SyncIQ performance, for backup monitoring of policies used for backup only versus DR.
See RPO guide for details
.
Cluster Usage reporting (requires Cluster Storage Monitor License keys).
See Cluster Storage Monitor admin guide for details
.
Reports are now available from the Reports on Demand Icon.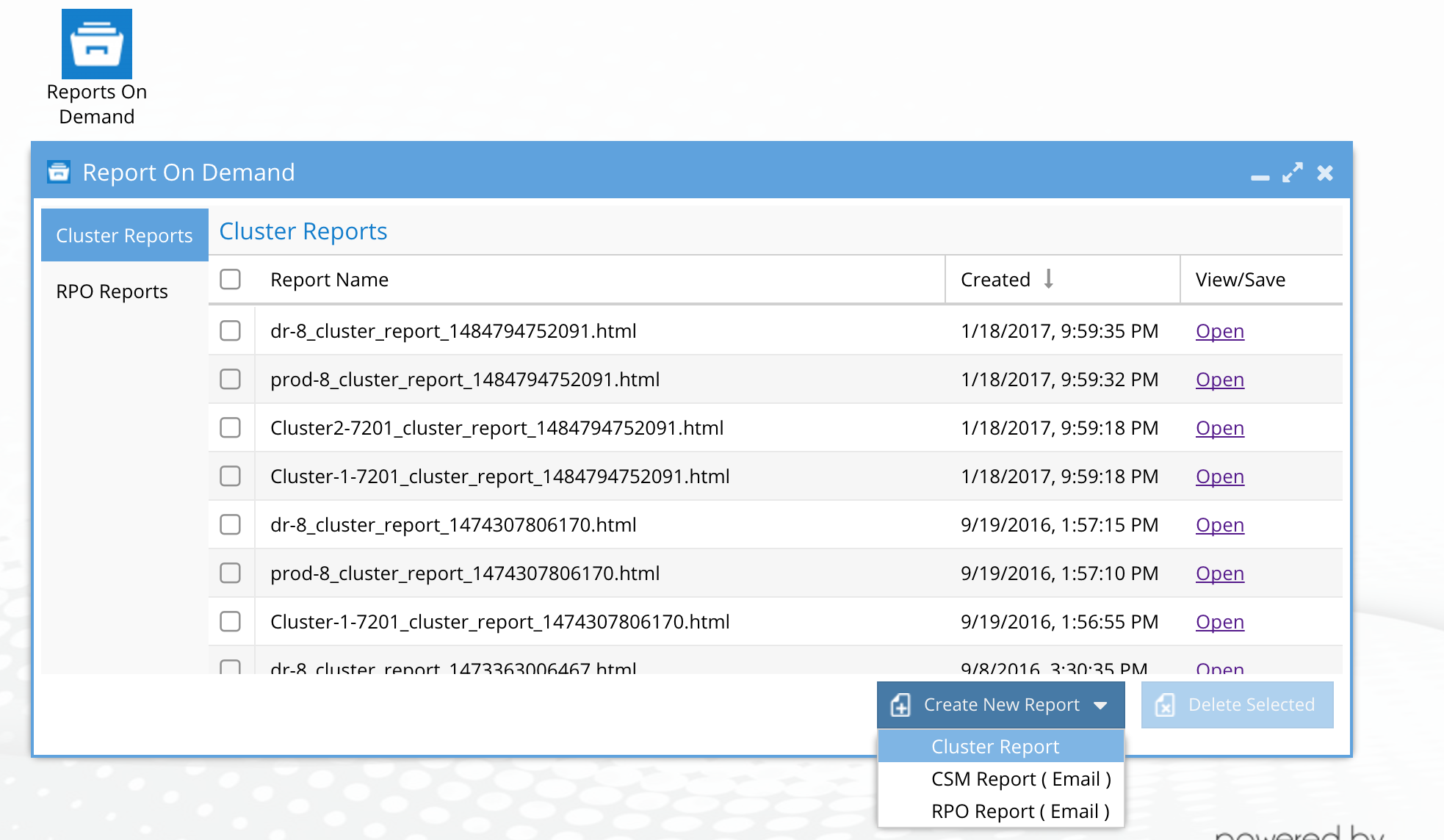 Eyeglass Cluster Config Reports
Eyeglass collects key cluster settings for the PowerScale clusters that it is managing, and makes them available in an HTML report format by email or on demand. Use the contents of this report to automate, and keep up to date, the documentation of cluster configuration for DR and your DR run book. This information is also valuable for IT planning, cluster expansion, networking and security
What's New in Cluster Reports
New in 1.9 cluster reports includes:
DNS settings for OneFS 8 now added to cluster reports.
Pools/Subnets in all groupnets shows up (with Access Zones) in OneFS 8 cluster reports. Also added zone name to pools in OneFS 7 reports.
Cluster Configuration Email Report
By default, the full cluster HTML report containing key cluster settings is emailed daily, at midnight, to all users who have been configured for email notification.
Cluster Configuration Report On-Demand
To generate a Cluster Configuration Report on-demand:
Login to the Eyeglass web page.
Open the Reports on Demand window.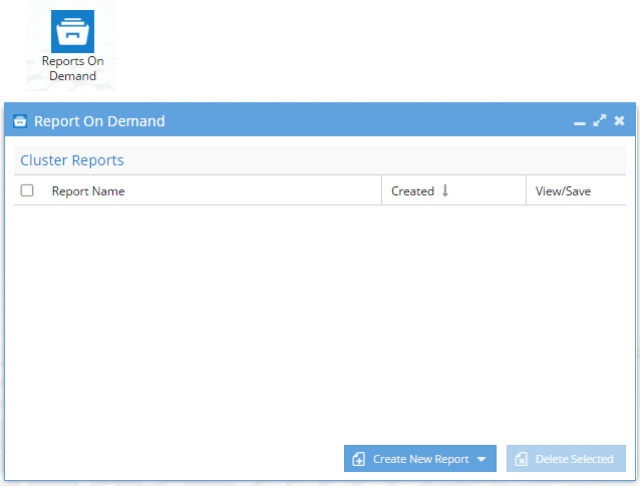 3. Select Create New Report/Cluster Report.
4. A confirmation dialog is displayed once the request has been submitted.
5. To monitor the progress of the report generation from the Running Jobs window, you can select View Running Jobs in the confirmation dialog.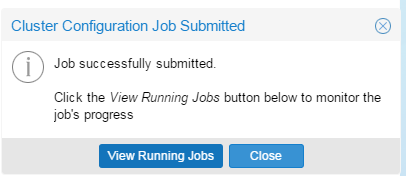 6. When the report has been generated it will appear in the Cluster Reports list. Report Name format includes the name of the cluster that the report is about <cluster name>_cluster_report_<timestamp>.html.
7. Select the Open link to view the report.

8. The report opens in a new Cluster Report Viewer window with a table of contents linked to each section of the report.
The report also displays changes in configuration - items added in green and items removed in red. Example below is adding a share permission: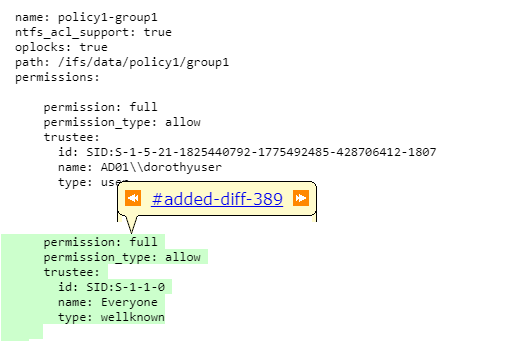 9. To save the report as PDF, select the Print/Save button in the Cluster Report Viewer window and then select the Save as PDF option.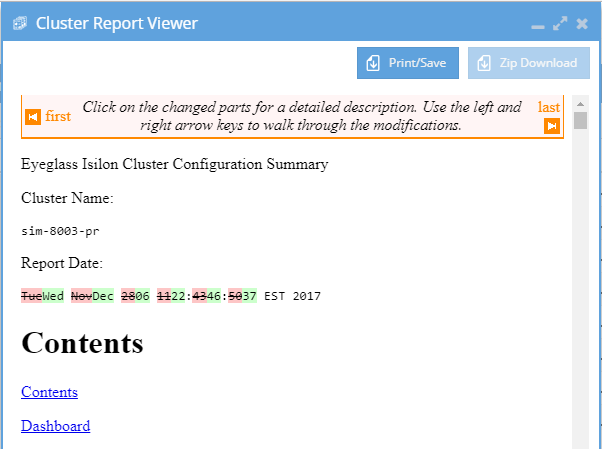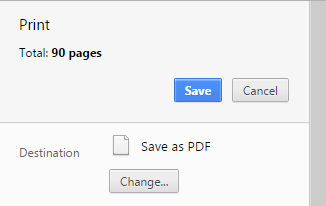 To remove old reports:
Use the check box to select reports for deletion.
Click Delete Selected.
Cluster Networking for Failover and Cluster Reports
Cluster networking is now added to cluster reports and can also be viewed in the zone inventory tree (see examples below). This information is key to assisting with Access Zone failover. Each Access Zone maintains a mapping to subnet pools and configuration data.
See the Failover Design Guide (Eyeglass Failover Design Guide) for instructions on creating hints to allow Eyeglass to failover networking with SmartConnect Zone migration, SPN updates, and pool mapping. This information is also needed to assist with Runbook Robot configuration within an Access Zone, and will allow customers to verify complete failover and failback operations between sites using Eyeglass automation.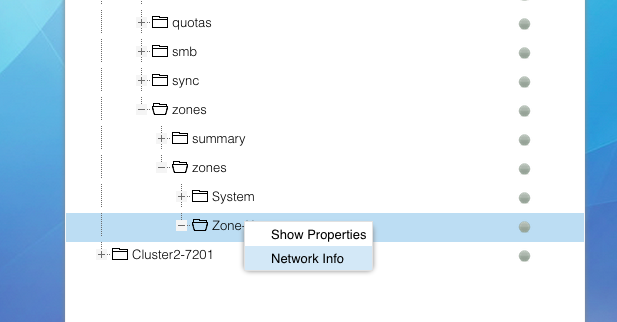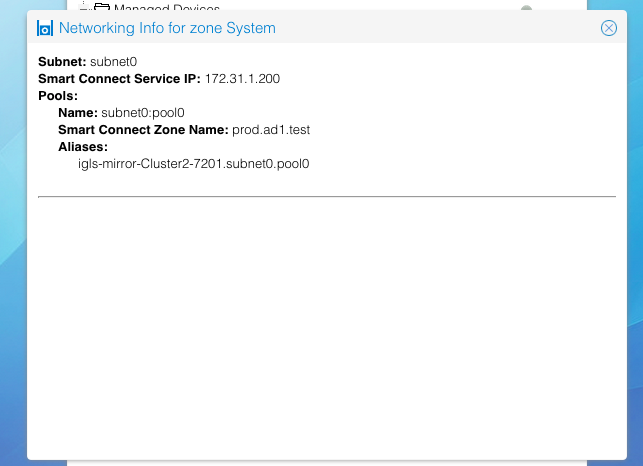 © Superna Inc