Getting Help
Service - Data Orchestration Bundle Archive Engine Design and Implementation
Home
Eyeglass Service Description
Part number - eyeglass-P031 Dell SKU AC608028
Revision 1 May 6, 2023
Service - Superna ™ Data Orchestration Bundle Archive Design and Implementation
Overview
This service is designed for customers who are deploying Data Orchestration Archive add on product and will assist with design and implementation/knowledge transfer to use the product to address key use cases for data archive to the on premise or Cloud S3 storage.
Limitations:

Scope: Covers a single cluster integration

Service Delivery: Remote WebEx or zoom

Operating Hours: Monday to Friday 2:00 AM to 3:00 PM EDT

Service Terms and Conditions are covered in product maintenance agreement Support Services Agreement

Mandatory: Installation Questionnaire Form completed located here with all questions answered. Service will not be scheduled until completed in full.

Exclusions:

Service delivery requires customer to have hands on knowledge of all external IT components.
Project Plan Summary
Prerequisites
Installation of Data Orchestration completed
Purchase of Data Orchestration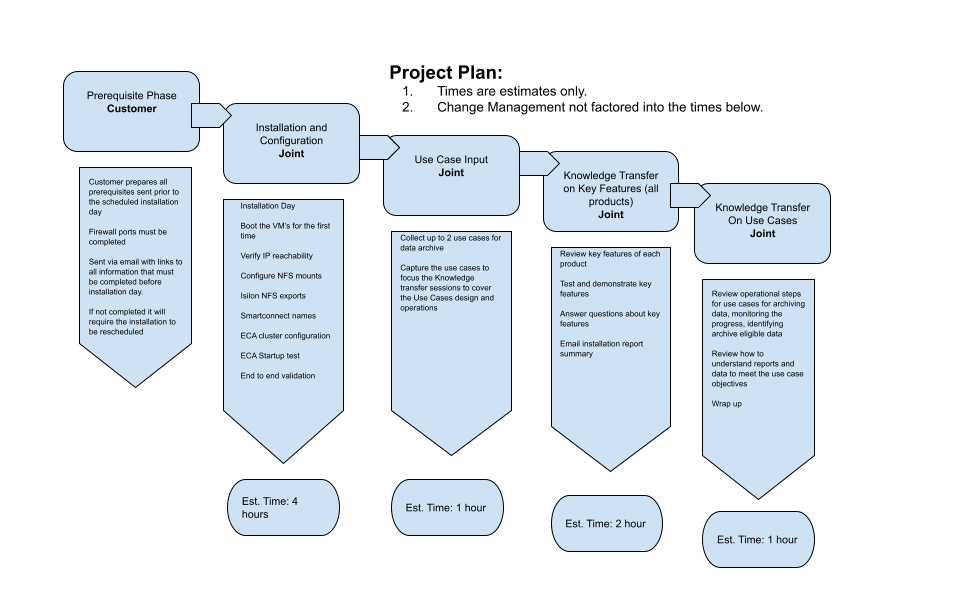 Use Case Phase
Collect up to 2 use cases on objectives for data archiving
Document use case objectives
Offline develop operational steps to achieve the use cases
Knowledge Transfer to include details on Use cases.
Knowledge Transfer Phase
-
Archive Engine
Explain how to identify data that is archive eligable

Explain how to configure archive policies

Review Best practices for S3 bucket versioning and storage tiers to align with customers business objectives for archive data

Review daily, weekly, monthly procedures to monitor progress of archive jobs

Review Recall procedures for archive data and end user portal optional configuration and rollout to users

Q&A on any of the above topics and cover the design document for the 2 key use cases
© Superna Inc