Administration Guides
How to Setup Email alarms with Exchange Server
Home
Overview
The following guide is intended to assist customers with setup of Microsoft Exchange Server with Eyeglass email alarms, reports (change reports, alarm reports, Recovery Objective Reports) and phone home support. This is not intended to be a comprehensive guide on Exchange server setup but provides the minimum required setup needed to get email relay functioning.
Typical Solution Configuration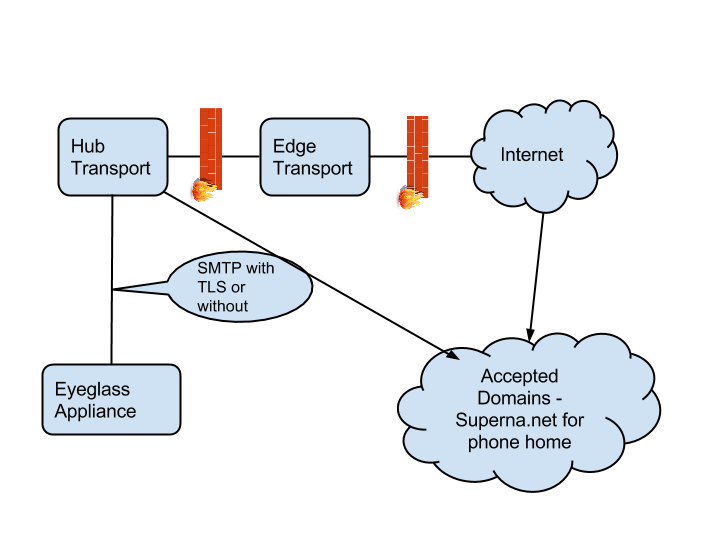 Steps for Connecting Eyeglass to Exchange Server TLS Disabled Anonymous SMTP with narrow Scope
Use this procedure to reduce the scope of the relay to the Eyeglass appliance.
Login to Eyeglass and open Notification Center from the start menu:

Add an email address to send alarms using SMTP information to Exchange Server.

Enter the ip address of an

Exchange FrontEnd Transport server

Disable the TLS option on the Receiver Connector on Exchange. The Screenshots below shows a Receiver Connector configured with TLS disabled, and the check boxes to allow external systems to relay SMTP through Exchange with a narrow scope set to the Eyeglass source IP address as being allowed to relay through exchange.

Screenshot below is with:
Anonymous disabled and requires authentication to Exchange server

TLS Disabled
Screenshot below is with:
Enabled and Eyeglass configuration

TLS Disabled
NOTE: When using anonymous no authentication is required to send email so scope of Eyeglass ip address should be added to restrict this to Eyeglass only

NOTE: The port must be set to a unique port not already in use on the exchange server Example port 256.

NOTE: if exchange server logs this error

certificate_unknown(46),

it indicates TLS parameter failure and TLS should be disabled as the certificate is unknown. Action Disable TLS on Eyeglass and retest.

Note: The scope is set to the Eyeglass ip address for this connection policy using port 25 default but will need to change the port if the default Exchange Receive Connector is on this same machine, as a port conflict will occur on the host.

Click the test button. You should receive an email as per below example.

If a connection error occurs view the debug information to get details on the failure.

Verify the email is received if no error is returned.
Steps for Connecting Eyeglass to Exchange Server TLS Enabled Authenticated and Basic Authentication
Configure the Exchange server Receive Connector on the Transport Hub to use TLS and Basic authentication, with email and password based login for mail relay, as per Screenshot below.

NOTE: The default Receive connector, enables Anonymous Users which is often disabled on Exchange installations.
© Superna Inc