Administration Guides
Eyeglass Deployment Options
Home
Eyeglass Deployment Options
Several options exist that allow customers to deploy Eyeglass in several configurations.
Warm Standby
This procedure is to protect the production Eyeglass appliance. Using the Eyeglass Automated 7 Day Backup feature and SyncIQ, the procedure will sync the backup archives to a running Warm Standby Eyeglass appliance in a 2nd cluster.
Notes on this solution:
This process also means only one Eyeglass appliance has clusters added.
This only requires one set of license keys (license keys are appliance specific).
Requires SyncIQ enabled clusters to protect the archives.
Production Eyeglass syncs Export used for DR of Eyeglass configuration data.

The following link provides detailed information on how to set up the Warm Standby Backup Procedure (Warm Standby)
3rd Site Witness (Supported)
In order to have all DR orchestration and information separate from the DR site it's best practice, when possible, to use a 3rd site to monitor your clusters with Eyeglass that is IP connected to Site A and Site B as shown below.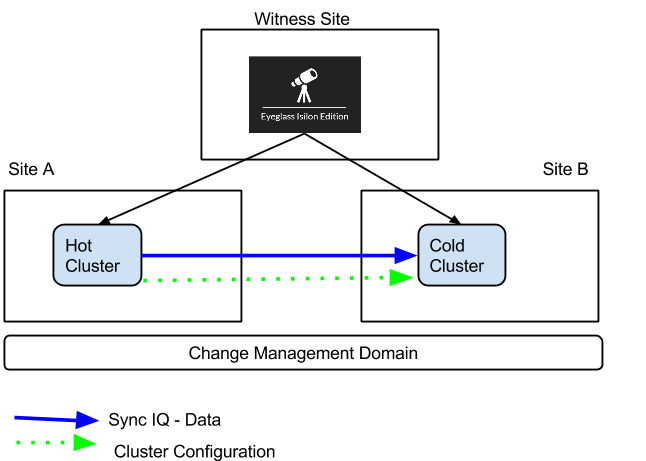 DR Site Witness (Supported)
In this configuration the witness function resides at the Cold or DR site, so that configuration and orchestration data is available in a DR event.

© Superna Inc