Administration Guides
Document Management System Guide
Home
Overview
Document Management systems assist with complex file workflows to secure data, provide versioning of edits to data and provide an auditing solution. A full blown document management solution is a very expensive large software deployment project. This often ends up out of reach for small simple workflows. This solution introduces a simple solution that uses SMB shares along with file and object platforms from Dell combined with Security and data management products from Superna to offer a robust lower cost easy to use Data Management system.
Benefits
No training costs for administrators or users by using simple SMB shares
Reduced complexity using automation features in Superna products
Combining File and Object storage into the solution allows a lower price point when versioning and immutability is required
Superna products leverage the key features of the PowerScale and ECS for a tightly integrated and secure solution
Managed entirely by the Storage team for simplified support of the whole System
Use Cases
Legal or compliance requirements for a document management system that can:

track changes to documents, provide auditing, data security (malware, or malicious data attack), immutability, simplified security

Document Workflows that result in document chain of custody from creation to completion
Media & Entertainment workflows that involve sensitive documents within a project
Police dash-cam and body-cam video chain of custody reporting
Surveillance video
Legal hold and legal investigation document workflows
Architecture Diagram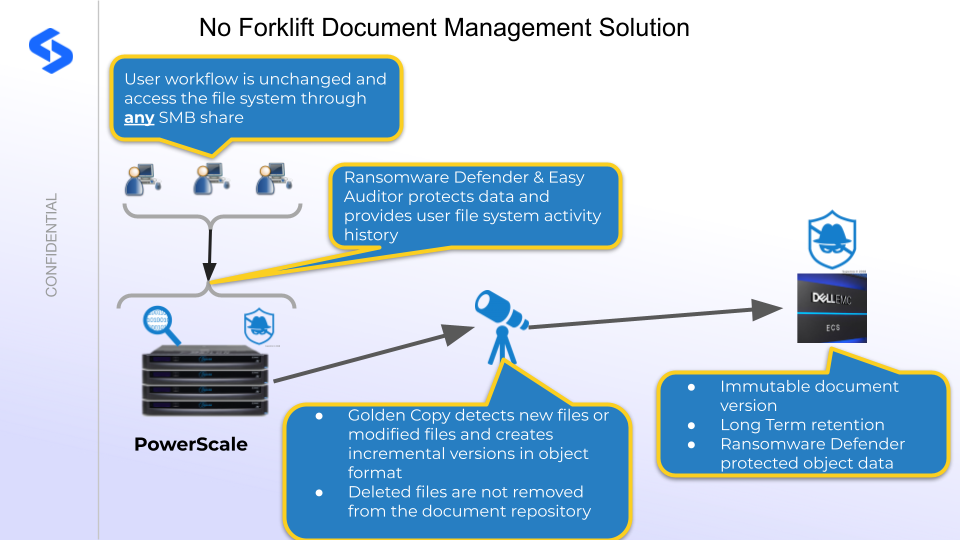 Requirement and Components
PowerScale
Dell ECS
Superna

Golden Copy & Pipeline
Ransomware Defender for PowerScale
Ransomware Defender for ECS
Easy Auditor
Product Compliance with Document Management System Requirements
| | |
| --- | --- |
| Document Management Requirement | Product Compliance |
| Secure document storage | PowerScale SMB 3 encrypted file shares |
| Full auditing of user access to data | Superna Easy Auditor provides reports and realtime detection of malicious behaviour impact secure document data |
| Transparent Document versioning | Dell ECS object storage provides copies of documents and stores versions of each document for long term storage, document versions are auto detected by Golden Copy and synced to object storage. |
| Data Sync file to object for long term retention of document versions | Golden Copy provides incremental data sync to ECS and enables document versioning of data and metadata protection of the documents (owner, group, mode bits, date stamps, folder ACL's) |
| Immutability of documents for chain of custody | Dell ECS object storage provides object lock on versioned data, to provide long term retention and read only access to document version to comply with legal hold and forensics requirements in a document management system |
| Legal or end user read only secure access to document versions | Golden Copy provides cloud browser interface that allows user or legal login to view locked versions of documents and single file download to view a document locally without any ability to edit, delete locked versions |
| Real time Ransomware protection of document data | Ransomware Defender for File and object provides real time ransomware protection of secure data, including detection, protection and recovery automation of both PowerScale and ECS from a single pane of glass |
| Real time Data loss prevention | Easy Auditor provides real time alerting of an user that attempts to bulk copy sensitive data from the secure SMB share with real time alerts that indicate the user name , ip address of the machine and a list of affected files |
| Real time Mass Delete detection and protection | Easy Auditor provides detection of any user attempting to delete data and provides recovery snapshots to recover data with real time alerts that indicate the user name , ip address of the machine and a list of affected files |
| Delete propagation protection | Any deletes from the SMB share will be ignored by Golden Copy, preserving all documents in a secured isolated object format to ensure no data can ever be deleted. Isolated delete feature in Golden Copy can move delete requests into a special ECS bucket for simple browsing of delete requests from end users to track what data was attempted to be deleted. |
| Real time Delete notifications | Easy Auditor can track and file or folder deletes and notify administrators with the with real time alerts that indicate the user name , ip address of the machine and a list of affected files |
How To The Configure Document Management System
Create an SMB share on PowerScale for users of the system to store documents and collaborate and setup SMB permissions with AD groups.
Deploy Superna products with defaults
Easy Auditor

Enable PowerScale auditing on the access zone that contains the SMB share
Configure Data Loss Prevention Active Auditor feature on the SMB share path to alert on bulk data copies on the secure share
Configure the Mass Delete Active Auditor feature on the SMB share path to alert on mass file deletion by any user
Configure a custom trigger Active Auditor feature for login log off tracking of users
Configure a custom trigger Active Auditor feature for file deletes on the SMB share path to track users that delete secured data on the SMB share

Golden Copy

Configure a folder sync with incremental schedule set to 10 minutes
Enable trashcan feature to move delete requests to a special ECS S3 bucket
OR disable incremental file delete sync to ensure no data on ECS is ever deleted
Enable AD login for legal or users to browser data versions stored in the ECS document respository.

Dell ECS

Enable object lock and bucket versioning to store long term versions in a locked immutable format.
© Superna Inc