Administration Guides
Administrator Search Guide
Home
Overview
This section covers administrator specific use cases. The user search guide UI is the same for administrators, and all advanced search features are the same with the considerations below.
Security and Administrator Searches
Administrators have the same security requirements for results. This means smb share permissions will filter results based on access of the AD account logged in. To see more of the file system, the administrator will need to create shares to grant access for searching data for e-Discovery or file system automation. If ACL search mode is enabled, this will block results if the administrator does not own the files which is always the case. See the configuration guide on how to enable Admin bypass to return all files even if they are not owned by the administrator.
How to search within a specific path and below for advanced searches
Administrators often need to reduce the scope of a search to a specific path in the file system. This option is only presented to users defined in the admin overrides list. See the configuration commands to add users to this list. Any user that logins on this list will see a path entry that allows a full path to be entered to bound the scope to this path or below.
Advanced Search + admin only Path entry field. This will be enhanced in future releases to allow file system browsing. Enter a path without the trailing / to indicate a path.
Example: /ifs/data/somepath (this is ok). /ifs/data/something/ (this is not ok)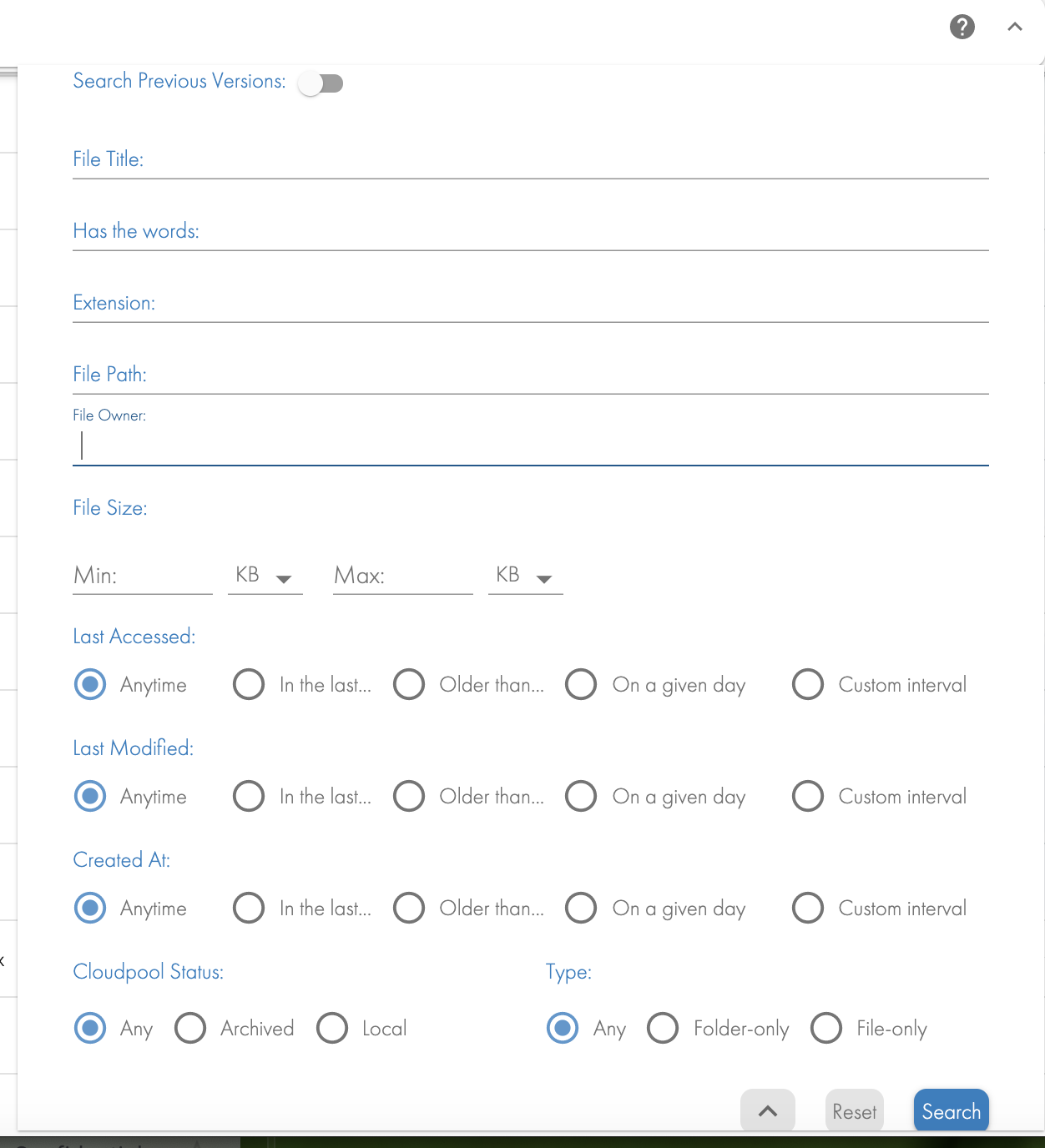 Download Search Results to CSV or Script downloads
See the user guide for how to download search results to a CSV in the GUI. Administrators have use cases to download to csv for several different use cases including data analytics, capacity management, security, file system action automation scripts. These use cases require very large csv script downloads. The appliance backup location is also stored in the download url.
Limitations on GUI Download of CSV
csv download of 100,000 results or less can be done on the UI and directly downloaded to your pc.
csv files larger than 100 000 files will automatically be stored on the download link. See the instructions below to access downloads.
How to Download Large Search or cmdwriter Files
Using a browser and the webUI user and password. Default user is ecaadmin and the password is set during installation for the Webui and download page access.

Note: This page is secured for administrators and not intended for end users.

https://x.x.x.x/downloads (enter the user id and password).
Under this directory you will find a CSV folder where all CSV search results will be stored for all users that requested large results save operations.
Under the cmdwriter folder any administrator saved scripts will be stored in this folder.
© Superna Inc