Eyeglass Solutions Publication
Unified Backup and Recovery and Data Availability Solution
Home

Unified Backup, Recovery and Data Availability Solution
Technical Note
Abstract:
This technical note provides a backup and data recovery solution combining Superna Eyeglass with Dell EMC PowerScale
Overview
Scale out NAS centralizes storage but stresses legacy backup software solutions with the sheer volume of data and fixed backup window. Backup software typical uses disk as a target for the backup, or VTL or real tape. The data is then moved off site by backup media servers that are moving whole files between sites for off site protection. These files cannot not be directly accessed by clients over NFS or CIFS and must be restored first. This process is slow for backups and restores.
The Solution Overview
EMC PowerScale offers many tools for protecting data and when combined with Eyeglass can offer a backup software replacement that is lower cost, faster for backups with block level replication and restores by giving direct access to files over NFS and CIFS. Eyeglass can replace the metadata Config sync , monitoring and reporting required by backup administrators.
Backup and Recovery Architecture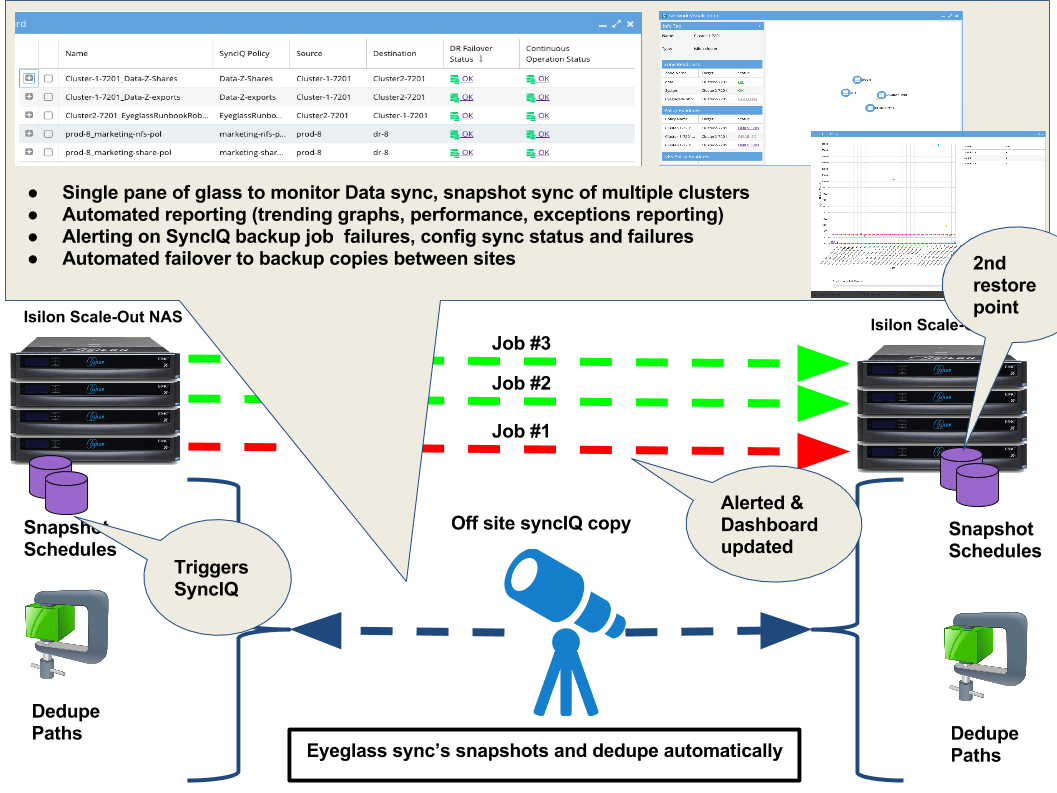 Unified DR and Operations Status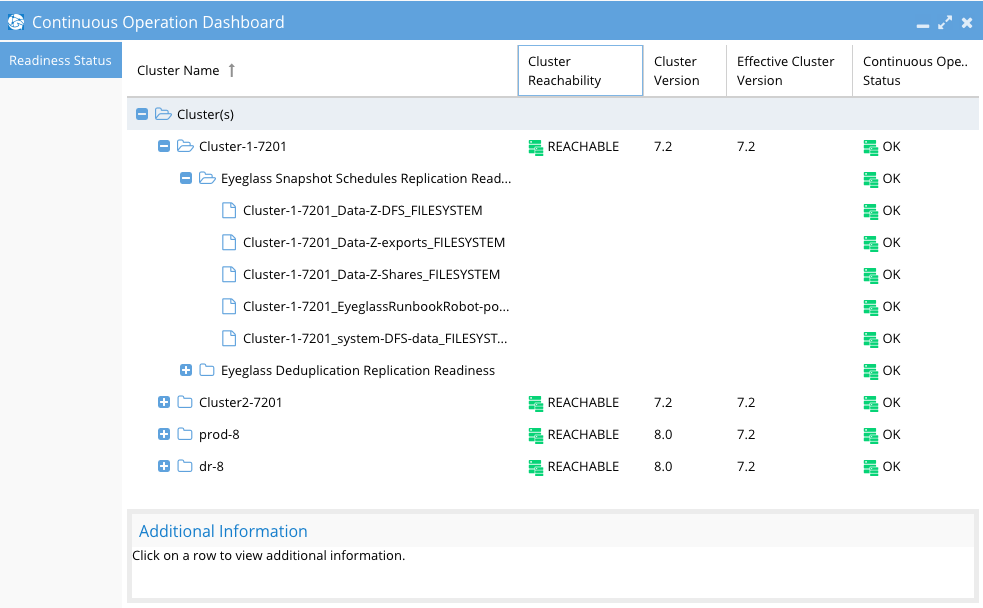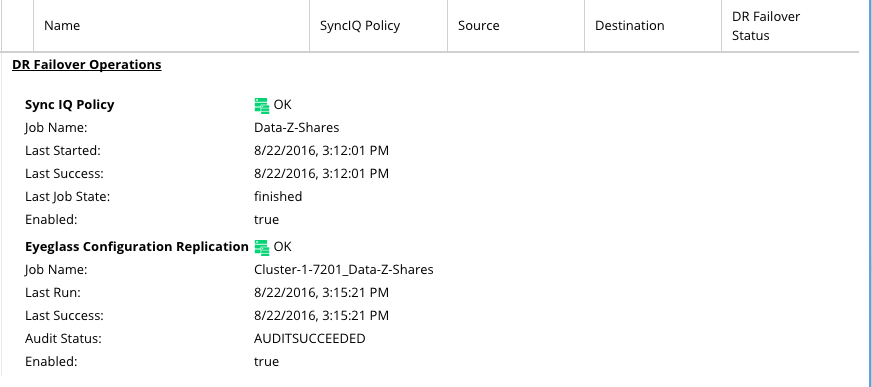 The Solution Components
Replicating PowerScale's with SyncIQ
SnapshotIQ licenses
(Optional dedupe licences)
Eyeglass DR Edition
The Solution Requirements
Outlined below are the requirements of a data protection solution with PowerScale and Eyeglass.
Make multiple copies of data quickly locally and off site
Space efficient copies
RBAC roles with Eyeglass to restrict functions and allow monitoring (Eyeglass)
Corporate web dashboard widget for quick global view of SyncIQ and snapshot sync across all clusters globally (Eyeglass)
Monitoring of job failures to make snapshots (Eyeglass)
Monitoring of SyncIQ job failures to move data off site (Eyeglass)
Monitoring throughput of off site SyncIQ performance (Eyeglass)
Trending of throughout, replication duration , GB transferred (Eyeglass)
Logging of errors that affect the data protection (snapshots and SyncIQ) (Eyeglass)
Easy of use and single pane of glass to monitor and capture alarms on source cluster , target cluster (Eyeglass)
Cluster wide reporting , per SyncIQ policy reporting (Eyeglass)
Single device to configure policies
Automatic sync of snapshot schedules between clusters (Eyeglass)
Multiple cluster support for global monitoring of geographically managed cluster pairs (Eyeglass)
The solution uses snapshots on the source cluster, a very common tool as the primary recovery of file data. Snapshots are fast to create, easy to schedule and space efficient.
OneFs 8 adds a new feature to SyncIQ policies that allows a SyncIQ policy to be triggered by a snapshot creation. This allows the administrator to manage data protection using the primary tool of scheduled snapshots and replication of data offsite is automatic.
Eyeglass syncs the snapshot schedule and Dedupe settings so that the same recovery points exist at the report data center. Built in failover features with Eyeglass allows recovery options at the remote site to automate presentation of recovery data over CIFS or NFS.
Data Flow
Snapshot created → triggers SyncIQ policy to run → Eyeglass syncs snapshot policy to target cluster → target cluster creates remote off site snapshot that matches the same schedule as the source cluster policy
All snapshot management is done on the source Cluster (Eyeglass sync to the target)
All share, export and quota management is done on the source (Eyeglass sync to the target)
All clusters are monitored and failures alarmed by Eyeglass centrally
All reporting is done centrally with Eyeglass with automatic daily reports
Stats report, raw data CSV, and PNG graphs of 30 trending emailed daily
Cluster Alarm and SyncIQ monitoring emailed, or slack channel or syllogism forwarded
Business Case
Reduce spend on backup software and leverage primary storage features and DR investments with SyncIQ and Superna Eyeglass to unify the data availability and backup recovery functions into a single solution.
Simplify data recovery with multiple online accessible copies locally and remotely secured by PowerScale share and export security.
© Superna LLC