Administration Guides
Web Widget Build DR Dashboards
Home
Web Widget Build DR Dashboards
This new feature uses the Eyeglass API to allow embedding DR dashboard failover tabs into external web pages. The feature uses an API token to authenticate and provide read only views for centralized dashboards.
The widgets are interactive and dynamically updated based on real-time DR data collected by Eyeglass. This allows more teams access to key business status data without needing "admin login" to the Eyeglass console itself.
Procedures to Generate Web Widget Code for Web Sites
Login to Eyeglass.
On Eyeglass Menu select Eyeglass REST API.
Select API Token tab.
Generate a token with a name (example; web).
Goto Web Widget tab.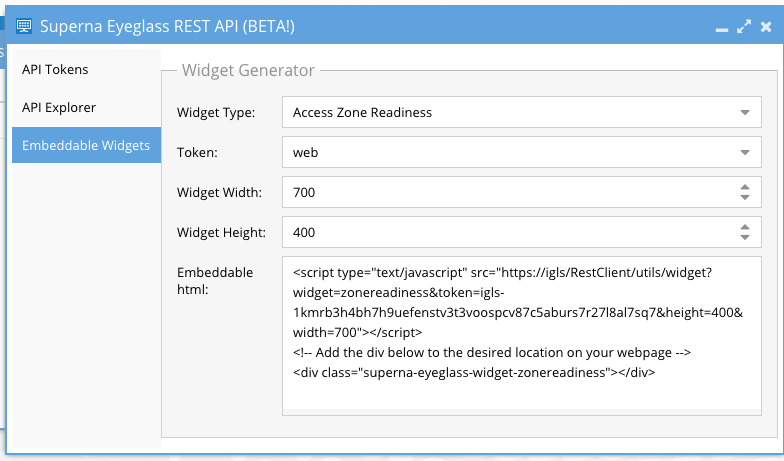 Select the DR Dashboard Tab to display in the Widget.
Select the token name in the list.
Widget width and height.
Cut and paste the html code into a web page per the example in step 10 below
NOTE: Eyeglass uses a self signed certificate which means many browsers will block REST API calls used by the java script in the web widget with end points using un-signed certs. This requires a signed cert added to Eyeglass using an external trusted CA or internal corporate signed cert.
You can install the Eyeglass cert into a browser as trusted for testing. See instructions here for OS X and chrome.

http://www.robpeck.com/2010/10/google-chrome-mac-os-x-and-self-signed-ssl-certificates/#.VxlSiZMrLBI
Example with IIS a web page:
This sample page loads two dashboards, one for Access Zone and the other for DFS.
<html>
<header><title>API Widget</title></header>
<body>
<h3> Access Zone Readiness Failover Dashboard </h3>
<script type="text/javascript" src="https://172.31.1.102/RestClient/utils/widget?widget=zonereadiness&token=igls-1kmrb3h4bh7h9uefenstv3t3voospcv87c5aburs7r27l8al7sq7&height=400&width=700"></script>
<!-- Add the div below to the desired location on your webpage -->
<div class="superna-eyeglass-widget-zonereadiness"></div>
<h3> DFS Mode Failover Dashboard </h3>
<script type="text/javascript" src="https://igls-update1/RestClient/utils/widget?widget=dfsreadiness&token=igls-1kmrb3h4bh7h9uefenstv3t3voospcv87c5aburs7r27l8al7sq7&height=400&width=700"></script>
<!-- Add the div below to the desired location on your webpage -->
<div class="superna-eyeglass-widget-dfsreadiness"></div>
</body>
</html>
How the Web Widget Looks in a Browser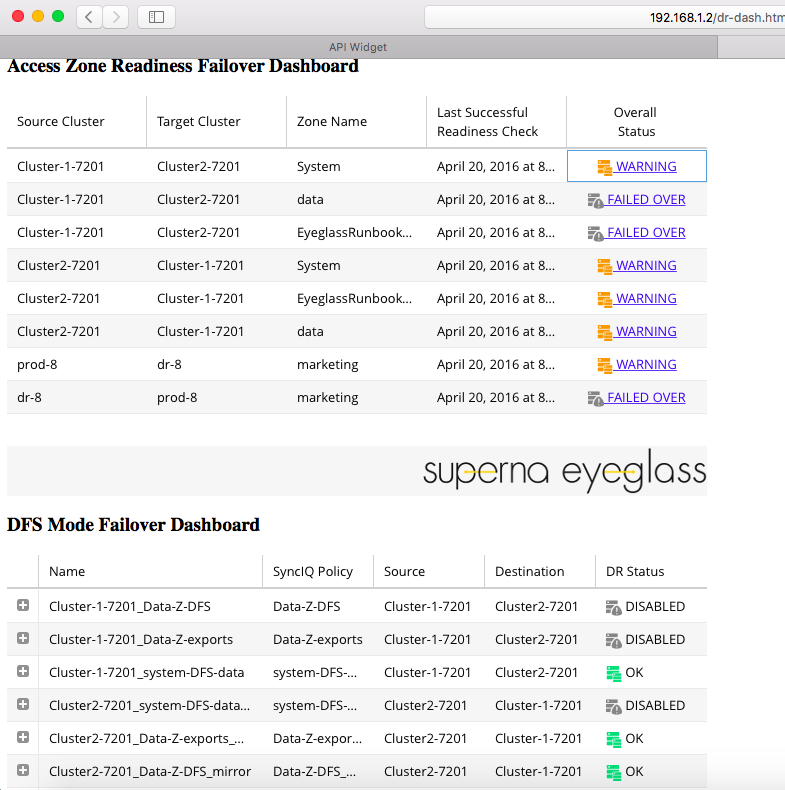 Example DR Dashboard Using Web Widget
Copyright Superna LLC